Description
The Global Healthcare Analytics Market size was USD 34.20 billion in 2022 and it is expected to grow to USD 113.13 billion in 2030 with a CAGR of 24.85% in the 2023-2030 period.
Global Healthcare Analytics Market: Overview
Healthcare analytics refers to the use of data analysis tools and techniques to gain insights from healthcare-related data. These insights are utilized to make informed decisions, improve patient outcomes, optimize operational efficiency, and reduce costs within the healthcare industry. The widespread adoption of electronic health records by healthcare providers has generated massive amounts of data. Healthcare analytics helps in extracting valuable information from this data, enabling better patient care and clinical decision-making. Healthcare organizations are increasingly recognizing the importance of data-driven solutions to address challenges in the industry. Analytics tools offer valuable insights to enhance patient satisfaction, optimize workflows, and streamline processes. Rising healthcare costs and the need for cost containment have compelled providers and payers to invest in analytics solutions to identify inefficiencies and areas for improvement. The advancements in big data processing and machine learning technologies have facilitated more sophisticated and accurate analyses of healthcare data, leading to better predictive and prescriptive analytics. Healthcare analytics has been instrumental in supporting population health management initiatives. It enables the identification of high-risk populations, prediction of disease outbreaks, and evaluation of public health programs' effectiveness. Healthcare analytics plays a crucial role in advancing personalized medicine. By analyzing patient data, genetic information, and treatment outcomes, healthcare providers can tailor treatments to individual patients for better results.
Global Healthcare Analytics Market: Covid-19 Impact
The pandemic generated a massive influx of patient data, including COVID-19 test results, hospital admissions, and treatment outcomes. Healthcare analytics tools were in high demand to process and analyze this data to support clinical decision-making, resource allocation, and public health response strategies. o reduce the risk of transmission, telehealth and remote patient monitoring services experienced a surge in adoption during the pandemic. Healthcare analytics helped in managing and analyzing data from these virtual care interactions, enabling healthcare providers to monitor patients remotely and ensure continuity of care. Healthcare analytics proved instrumental in predicting COVID-19 case surges, enabling hospitals to allocate resources efficiently and plan for potential capacity constraints. Analytics played a crucial role in accelerating drug and vaccine development processes. It facilitated real-time monitoring of clinical trials and data analysis to identify potential treatments and evaluate vaccine efficacy. COVID-19 exposed health disparities in different populations. Healthcare analytics allowed for the identification and analysis of these disparities to address underlying issues and improve equitable healthcare access.
 Global Healthcare Analytics Market: Growth Drivers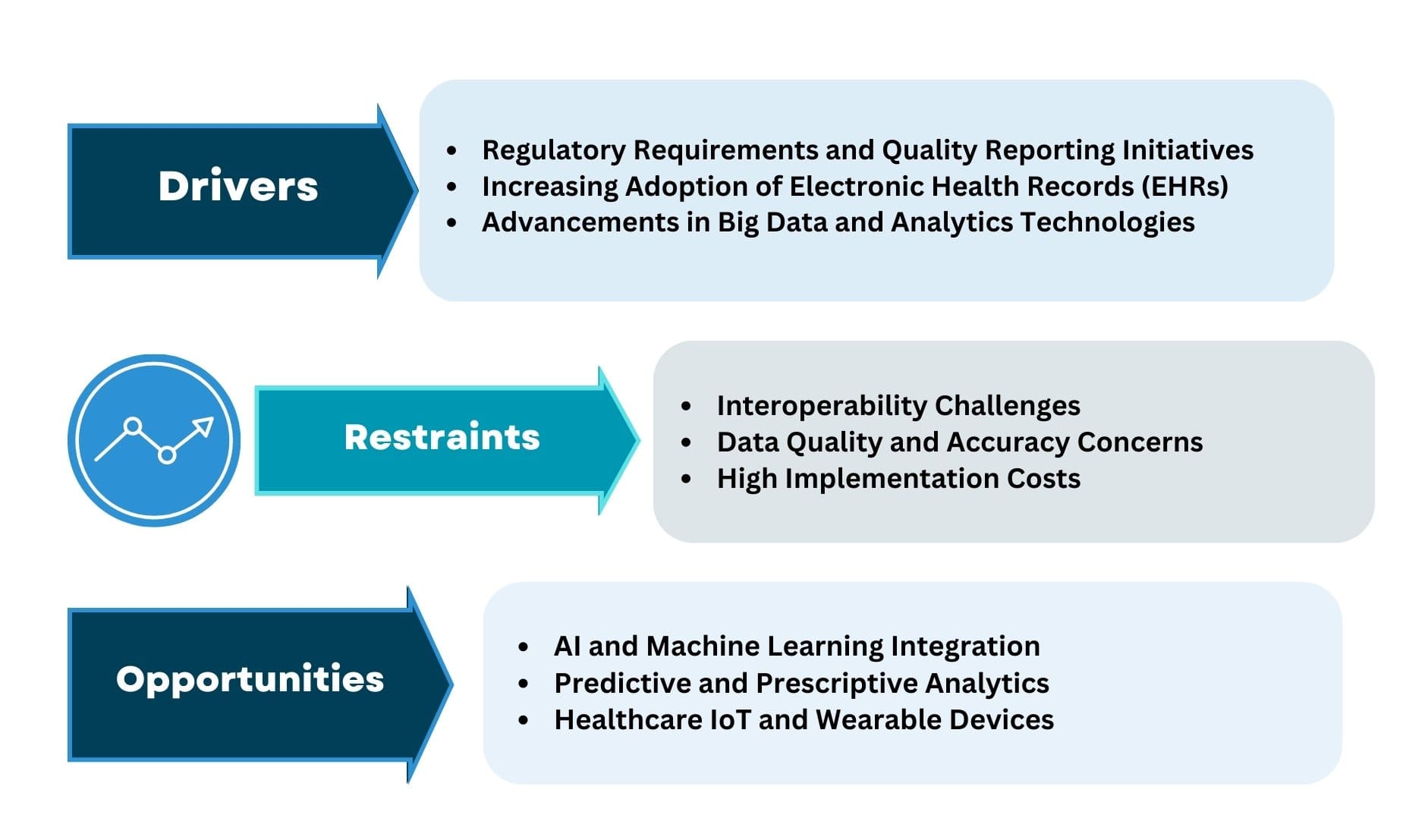 Regulatory Requirements and Quality Reporting Initiatives:
Governments and regulatory bodies in various countries have implemented initiatives to improve healthcare quality and patient safety. Healthcare analytics helps healthcare providers comply with these requirements and track and report on key performance indicators.
Increasing Adoption of Electronic Health Records (EHRs):
The widespread adoption of EHR systems has generated vast amounts of digital patient data. Healthcare analytics solutions enable the extraction of valuable insights from EHRs, leading to better clinical decision-making and more efficient healthcare processes.
Advancements in Big Data and Analytics Technologies:
. The evolution of big data processing and analytics technologies has made it possible to handle and analyze massive volumes of healthcare data efficiently. This has paved the way for more sophisticated data analytics and predictive modelling in the healthcare industry.
Focus on Population Health Management:
Population health management aims to improve the health outcomes of specific groups of patients. Healthcare analytics assists in identifying high-risk populations, predicting disease outbreaks, and implementing targeted interventions to improve overall population health.
Global Healthcare Analytics Market: Restraining factors
Interoperability Challenges:
 Healthcare data is often dispersed across various systems and platforms, leading to interoperability challenges. Integrating data from disparate sources can be difficult, and inconsistencies in data formats may hinder the seamless functioning of healthcare analytics tools.
Data Quality and Accuracy Concerns:
The effectiveness of healthcare analytics heavily relies on the quality and accuracy of the underlying data. Incomplete, inaccurate, or inconsistent data can lead to unreliable insights and hinder the potential benefits of healthcare analytics.
High Implementation Costs:
Implementing healthcare analytics solutions can involve substantial upfront costs, including software licenses, infrastructure, data storage, and ongoing maintenance expenses. Smaller healthcare organizations or those with limited resources may find it challenging to afford these investments.
Global Healthcare Analytics Market:  Opportunity factors
AI and Machine Learning Integration:
The integration of artificial intelligence (AI) and machine learning (ML) technologies into healthcare analytics holds immense potential. AI and ML can process vast amounts of healthcare data, identify patterns, and make predictions, leading to more accurate diagnoses, treatment recommendations, and personalized medicine.
Predictive and Prescriptive Analytics:
Healthcare organizations can leverage predictive analytics to anticipate patient needs, identify high-risk populations, and proactively manage chronic diseases. Additionally, prescriptive analytics can offer actionable insights to healthcare professionals, guiding them on the most effective treatment plans and interventions.
Epidemiological Surveillance and Outbreak Prediction:
Healthcare analytics has a critical role to play in monitoring disease outbreaks and epidemics. By analyzing healthcare data and external factors, public health officials can better predict and respond to infectious disease threats.
Healthcare IoT and Wearable Devices:
The growing use of Internet of Things (IoT) devices and wearable health technology generates a vast amount of patient-generated health data. Healthcare analytics can analyze this data to monitor patient health, enhance preventive care, and manage chronic conditions.
Global Healthcare Analytics Market: Challenges
Limited Interdisciplinary Collaboration:
Effective healthcare analytics often requires collaboration between healthcare professionals, data analysts, and IT experts. Limited interdisciplinary collaboration can hinder the development and deployment of analytics solutions that meet the needs of healthcare stakeholders.
Healthcare organizations, particularly smaller ones or those in resource-constrained regions, may face financial and technical limitations in implementing healthcare analytics solutions. The initial investment, ongoing maintenance, and skilled personnel required for analytics initiatives can be costly.
Lack of Skilled Workforce:
Analyzing healthcare data demands skilled data analysts, data scientists, and healthcare professionals with expertise in analytics. The shortage of such skilled personnel can impede the effective implementation of healthcare analytics initiatives.
Patient Data Confidentiality Concerns:
Patients may be concerned about the privacy and confidentiality of their health data when used for analytics purposes. Building trust and ensuring transparency in data usage are crucial for patient acceptance and participation in healthcare analytics initiatives.
Global Healthcare Analytics Market: Segmentation
Based On Product Type: The market is segmented into Descriptive, Predictive, and Cognitive depending on the type segmentation. Among these the Descriptive Analytics segment contributes major revenue share. As, descriptive analytics is the most basic form of healthcare analytics, and it involves analysing historical data to identify trends and patterns. This information can be used to improve decision-making, identify areas for improvement, and track the performance of healthcare organizations.
Based On Application: Based on application segmentation, the market is further divided into Financial, RCM, Fraud, Clinical, and Operational. Among these, the financial segment has accounted for a major share of the market. This is due to the increasing demand for fraud detection and revenue cycle management (RCM) solutions in the healthcare industry.
Based On Region: Based on Region, the market is segmented into five key geographical regions namely – North America, Europe, Asia Pacific, Latin America, and Middle East & Africa.
Global Healthcare Analytics Market: Regional Insights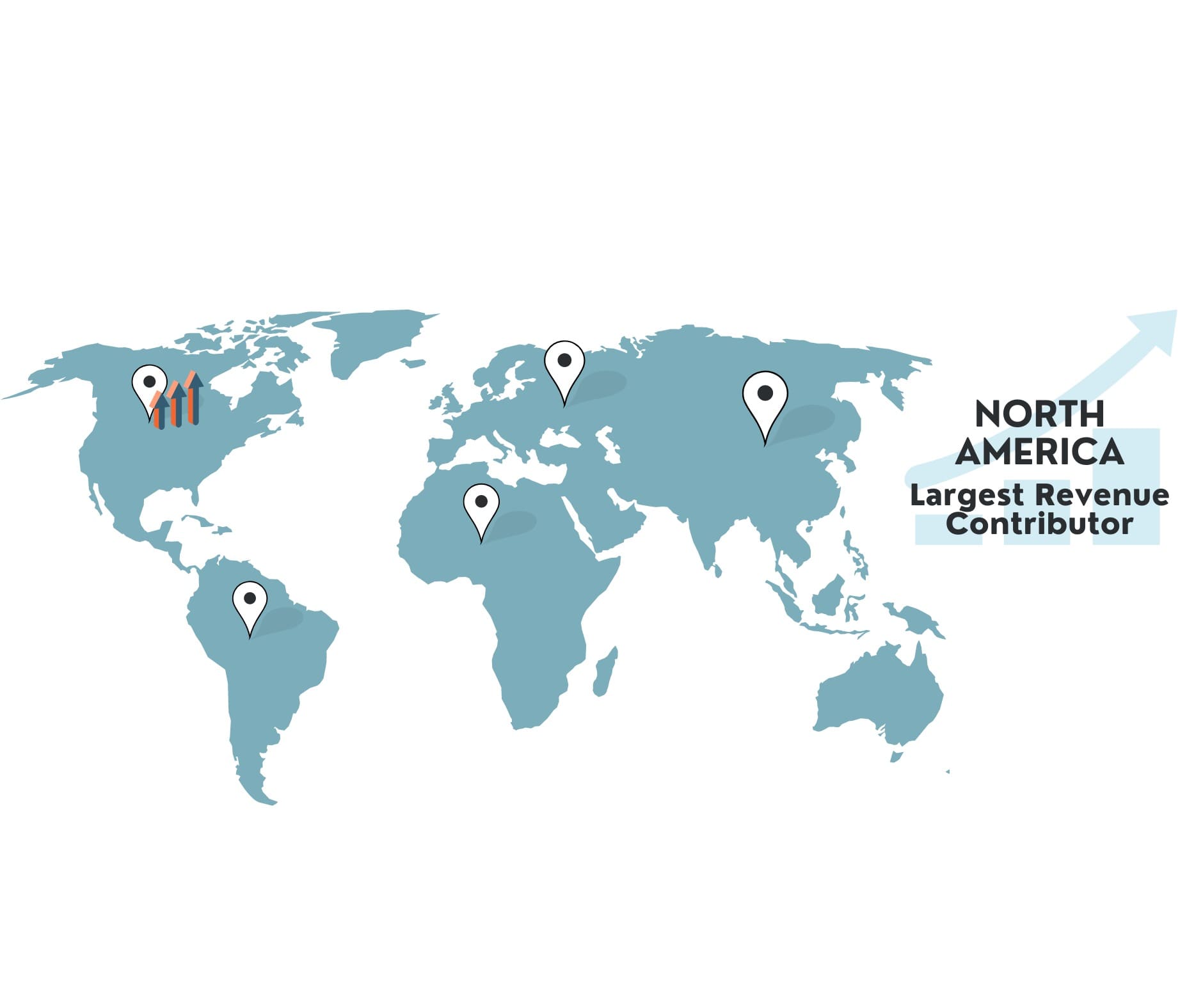 North America, particularly the United States, has been at the forefront of adopting healthcare analytics solutions. The region has a well-established healthcare system, extensive use of electronic health records (EHRs), and a high level of technological advancement. The presence of major healthcare analytics vendors and a focus on value-based care has driven the adoption of analytics solutions to improve patient outcomes, reduce costs, and enhance healthcare delivery. European countries have shown increasing interest in healthcare analytics to address challenges related to an aging population, chronic disease management, and cost containment. Countries like the United Kingdom, Germany, and France have invested in healthcare analytics for better population health management, clinical decision support, and optimizing healthcare resources. The Asia-Pacific region has witnessed significant growth in the adoption of healthcare analytics, driven by the increasing digitization of healthcare data and rising awareness of its potential benefits. Countries like China, India, and Japan have been investing in healthcare infrastructure and analytics to improve patient care and public health outcomes. The healthcare analytics market in Latin America is gradually expanding, with countries like Brazil and Mexico adopting analytics solutions to improve healthcare efficiency and reduce costs. The region's focus on improving healthcare access and quality has led to increased interest in data-driven decision-making. The Middle East and Africa have seen a growing interest in healthcare analytics to address healthcare challenges, including infectious diseases, chronic conditions, and healthcare resource management. Countries like the United Arab Emirates and South Africa have been investing in healthcare analytics to improve healthcare outcomes and enhance patient care.
Competitive Analysis
The Global Healthcare Analytics Market is driven by various key players such as IBM, SAS Institute Inc, ExlService Holdings Inc, Cerner Corporation, Veradigm, LLC, Enlitic, Apixio, MadeAnalytics Inc, McKesson Corporation, Flatiron and Exscientia.
Global Healthcare Analytics Market: Recent Developments
Veradigm.: In June 2023, Allscripts Healthcare launched Veradigm Payer Insight, a solution that helps payers to identify and address gaps in care. This solution uses data from Allscripts' electronic health record (EHR) platform to provide payers with a comprehensive view of their patients' care.
Stora Enso: In June 2022, Cerner Corporation was acquired by Oracle for $28.3 billion. This acquisition will help Oracle to expand its healthcare offerings and to become a more significant player in the healthcare IT market.
In July 2022, Cerner Corporation launched Cerner HealtheIntent, a new population health management platform. This platform uses data from Cerner's electronic health record (EHR) platform to help providers improve the care of their patients.